BUSINESS CONFIDENCE BADGE- A GREAT WAY FOR BUSINESSES TO BOOST THEIR GOOGLE REVIEWS RATINGS QUICKLY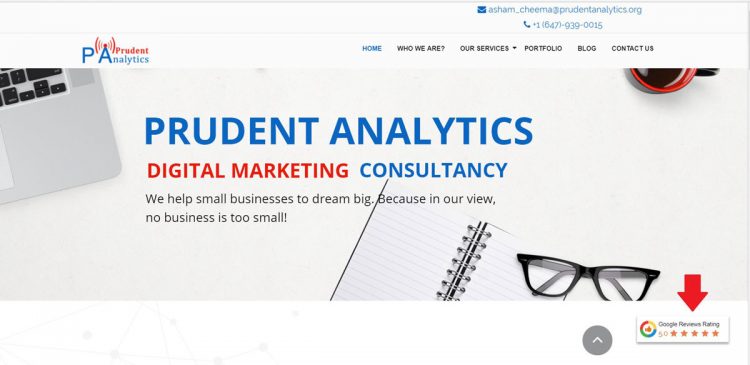 WHAT IS BUSINESS CONFIDENCE BADGE? HOW CAN IT HELP BUSINESSES IMPROVE THEIR GOOGLE REVIEWS RATING?
---
It is the age of information and while companies are willing to pay millions to access relevant information, customers are also becoming savvy about making informed choices. It has become common practice for new buyers to research a product, service or brand online before associating with it. At the same time, regular buyers are learning to express their feedback on social media and digital platforms even before they share it with the seller. Prudent Analytics has thus developed an unprecedented tool, which can help businesses concatenate, list and improve their Google reviews and ratings. Its aptly called "Business Confidence Badge".
Benefits of Business Confidence Badge
Business Confidence Badge is a simple but potent digital marketing tool that benefits online business seamlessly. It sits on your website like a badge and pulls up filtered google reviews from your business listing. Core benefits of Business Confidence Badge are –
Positive Customer Perception: As soon as a visitor land on the website or mobile site, the Business Confidence Badge is visible at the bottom of the page. Not only does it reflect the Google rating of the business, but also reminds the visitors of others who have used and liked the business' product or service and left a review. This creates a great first impression and a lasting positive perception.
Facilitates decision making: Google ratings and reviews are common influencers for customers while assessing a business. Irrespective of the type of transaction, transparent access to the experience of other users speeds up the decision making process for any potential customer. According to a recent research, online reviews and ratings can help in lead conversion rate by as much as 47%.
Consolidates reviews: Business confidence badge is also an efficient way of collection, consolidation and listing of reviews. As a site owner, you and your visitors can access relevant reviews and ratings in just one click.
SEO benefits: Not only does the Business Confidence badge highlights favorable reviews, it also helps in improvement of website rankings. Through its algorithm, Google gives a rank to a website which determines where your business would rank in search results. One of the factors in determining this rank is what people are saying about your business and how popular is it among them. Thus, the Business Confidence Badge will not only consolidate google reviews but also help in generating SEO benefits for your business.
Ease of writing review: Often businesses ask their customers to leave a Google review on their business listing online to improve their google ratings as well as get more reviews. But very few actually make the effort of typing in your business listing name, locating the correct listing, finding the right link and posting the review. By this time, a customer may already be disengaged. With Business Confidence Badge, the customer can write a review about his experience while he is on the website. The ease of this process improves the potential for a positive as well as more elaborate review. Business supporting the "Business Confidence Badge" have reported a significant jump in new reviews by as much as 79%. Thus, new businesses greatly benefit from it and can quickly scale up their google ratings.
Concatenating Reviews: The badge also links the reviews in a series and provides 'Read More' option to visitors who require more information before making their decision.
HOW BUSINESS CONFIDENCE BADGE WORKS
Step 1: The Trust Badge is indicated on the bottom right corner of every web page within the website. The badge indicates the cumulative Google Review Rating for the business.
Step 2: Users visiting the site can click on this badge and filtered reviews will slide out from the right side of the screen.
We can even filter the reviews for eg- 3 stars and above or 4 stars and above to showcase our best reviews first.
Step 3: From the same slider screen, site visitor gets an option to "See all reviews" or "Write a review" for the business.
Mobile website view-
The Business Confidence Badge is a great tool, especially for new and small businesses, which can benefit immensely from more number of Google reviews and a higher rating. It helps highlight the customer confidence in your business and aids in building a positive perception of your business.
Collaborate with Prudent Analytics to outfit your website with a Business Confidence Badge and improve your customer engagement in exponentially. Click here to contact us or call us at 647-939-0015 to know more.